12th annual Findlay Cadillac Through the Years car show draws colorful display at Town Square Las Vegas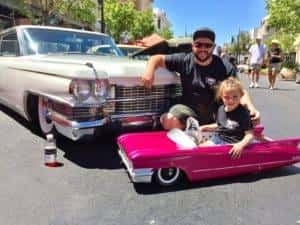 There was a buzz around town with regard to the 12th annual Cadillac Through the Years car show April 30 at Town Square Las Vegas. A gathering of more than 30 custom Cadillacs at Speed Vegas south of Las Vegas bolstered the Findlay Cadillac-sponsored annual car show in one of the country's most colorful displays.
Chad Solis, the president of Cadillac Kings of Las Vegas, said the show was awesome. His club brought about ten cars to the show.
"It was awesome and the weather was perfect," added Solis, who just turned 40. "I had my own Cadillac show at Speed Vegas the day before. The Cadillac thing is a lot of fun. I always wanted one of them when I was younger, but never could afford it.
"Everybody loves his or her own Cadillac. It doesn't matter what kind of car enthusiast you are. Everyone is drawn to an old Cadillac, which can fit into any car show."
Solis said Cadillacs draw enthusiasts of all ages, as evidenced by the fact that one of the members drove his '55 Cadillac from Albuquerque, N.M.
"We have one a guy in our club who is in his early-thirties" Solis said, adding that the club's oldest members are in their fifties. "There is a real love for a classic car, especially when that classic is a Cadillac. Our cars are all original with stock white wall tires and the works."
Originated out of Southern California, Cadillac Kings of Las Vegas has been around has been in existence for the past 10 years.
"We're nationwide," Solis said, "There are 21 chapters throughout the country.
In what has become a colorful gathering of cool cars and excellent crowds at Town Square Las Vegas near the I-215 and Las Vegas Boulevard, Cadillac Through the Years drew an excellent turnout of both classic cars and automotive enthusiasts on a day that was highlighted by Chamber of Commerce weather.
In a city where Sunday afternoons are filled with things to do, Cadillac Through the Years again became the place-to-be in Southern Nevada.
Findlay Cadillac general manager John Saksa praised the event.
"This is a fun event," said Saksa, who again combined with the Cadillac and La Salle Club of Las Vegas to present the car show. "We added a few new elements to the show this year, and the result was an even bigger event."
Findlay Automotive Group CFO Tyler Corder said the show continues to be an attention-getter.
"This event just keeps getting bigger and better each year," Corder said. "The beautiful Cadillacs from all eras are a real attraction. We appreciate our partnership with the Cadillac LaSalle Club and with Town Square Las Vegas who help us put on this great community event."
Further information can be found by visiting www.cadillacthroughtheyears.com or www.facebook.com/caddyshow; while further information regarding Cadillac Kings of Las Vegas can be found on Facebook by searching Cadillac Kings Las Vegas.
Findlay Cadillac is part of Findlay Automotive Group that was founded in 1961 by the late Pete Findlay, whose son, Cliff, now oversees dealerships in Nevada, Arizona, Utah and Idaho. Further information regarding the group can be found at www.findlayauto.com.
Further information can be found by visiting www.findlaycadillac.com or by calling 702-558-2600.