Make A Wish- Subaru El camino Restoration
Published: 12/8/21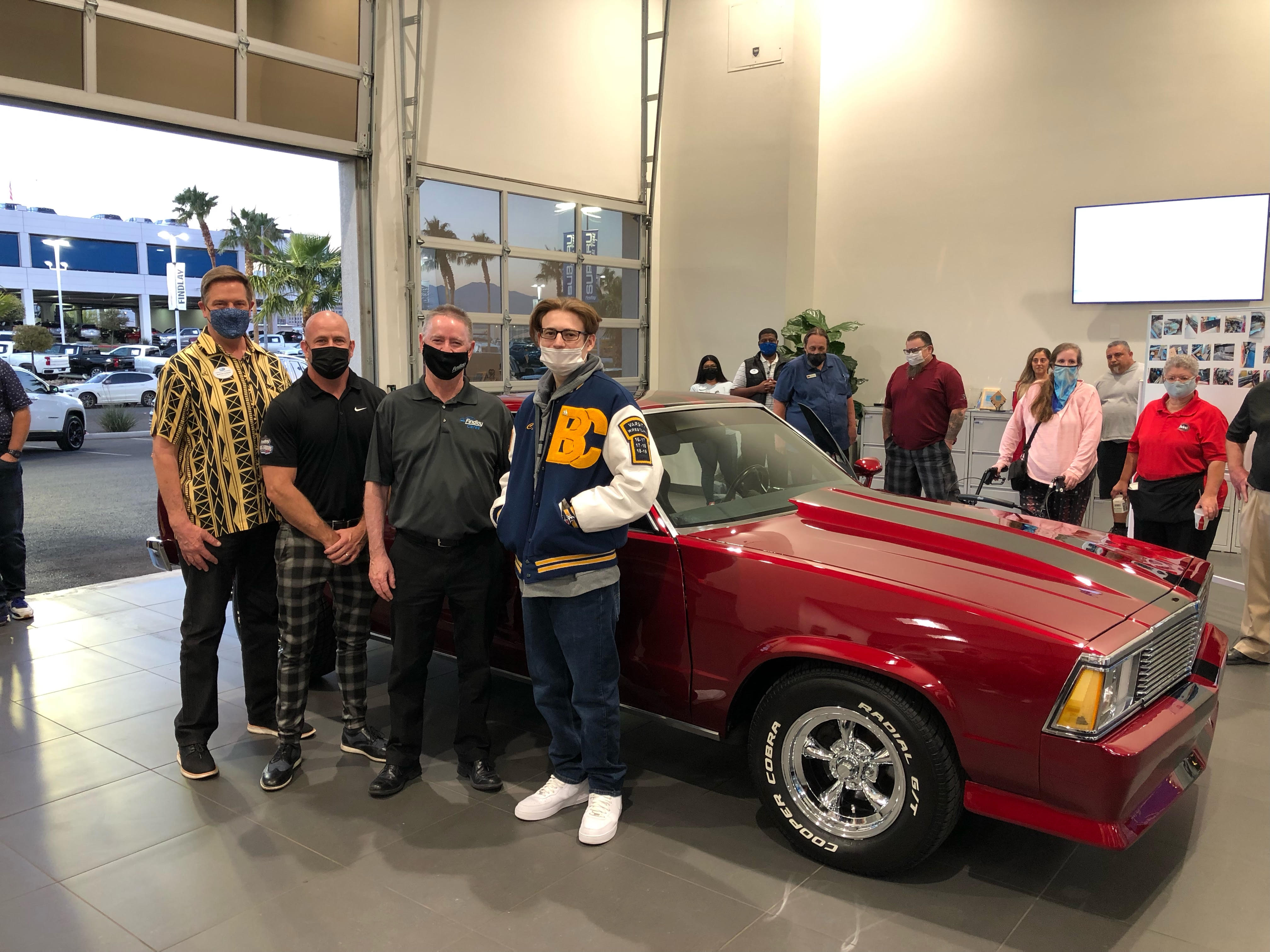 Findlay's Subaru of Las Vegas and the Make-A-Wish Foundation of Southern Nevada make a wish come true with a 1981 El Camino renovation
It has been more than a quarter-century since the last Chevrolet El Camino rolled off the production line. However, to this day it remains an iconic fixture amongst the
automotive legends. On December 3rd, 2021 the Make-A-Wish Foundation of Southern Nevada and Findlay's Subaru of Las Vegas surprised Joseph, a 20-year-old from Las Vegas, with his own, refurbished 1981 Chevrolet El Camino.
It was Joseph's – known as JC – love of cars that inspired him to wish for a car makeover. JC was diagnosed with chronic kidney disease at seven months old. Due to the timing of his diagnosis, JC's kidneys were never able to develop properly as he got older. JC was an avid wrestler when he was in high school, but he had to stop when his medical condition progressed. Luckily, JC was able to receive a kidney and liver transplant in October 2017. Even with a busy life and demanding treatment schedule JC would still find time to fix his car, study auto mechanics, and play his PS4.
As a fellow El Camino aficionado, Subaru of Las Vegas General Manager Burton Hughes said, "I had a car that was very similar to his, a 1978 El Camino. It was nostalgic for me to be involved with this project because I drove that car when I was his age." Hughes continued, "Subaru of America has a national relationship with the Make-A-Wish Foundation and we really wanted to be engaged personally and be hands-on with this local wish…It's all about the community coming together and lifting each other up."
In assisting with this build, Subaru of Las Vegas' contribution allowed for JC's El Camino to get a sleek apple red paint job with racing stripes, a full black leather
interior complete with buckets seats, an upgraded dashboard that includes a new custom-built stereo system, upgraded power door locks, and windows, and new tires and rims – everything but that new car smell.
Since 1980, the Make-A-Wish Foundation has granted over 340,000 wishes for those with critical illnesses. Its mission is to create life-changing wishes that will install the
recipients with joy and hope that may also help boost the physical and emotional strength needed to fight a critical illness. The Make-A-Wish Foundation believes in the
power and impact of a wish is what guides and inspires them to grant the wish to every eligible person. Subaru of Las Vegas is pleased and honored to be a part of this wish. They appreciate the exceeding quality of work done by the team at Findlay Customs.
Subaru of Las Vegas Assistant General Manager Jennifer Vitale also said, "Being able to make this wish come true for JC is a moment that will never be
forgotten. With all of the challenges that COVID has presented us with this past year (and then some), this project took about nine months to complete and it was undoubtedly worth it. JC's reaction as we revealed his made-over collectible vehicle is exactly why we do what we do. To see the impact that it had on him and to know that we were a part of that, there's no better feeling. I'm extremely honored that Make-A-Wish Southern Nevada allowed us to be a part of granting this wish."
When JC saw his refurbished El Camino for the first time his response encapsulated the entire experience, "This is absolutely beautiful." Indeed, Subaru of Las Vegas and the whole Findlay family wish JC happiness, health, and smooth roads as he moves forward into the next chapter of his life.
Findlay Automotive Group began in 1961 with one location in Las Vegas. Since then they've grown to 33 locations in Nevada, Arizona, Utah, California, Oregon and
Idaho. For more information visit www.FindlayAuto.com