Valley Automall 14 Days of Christmas
Published: 12/15/21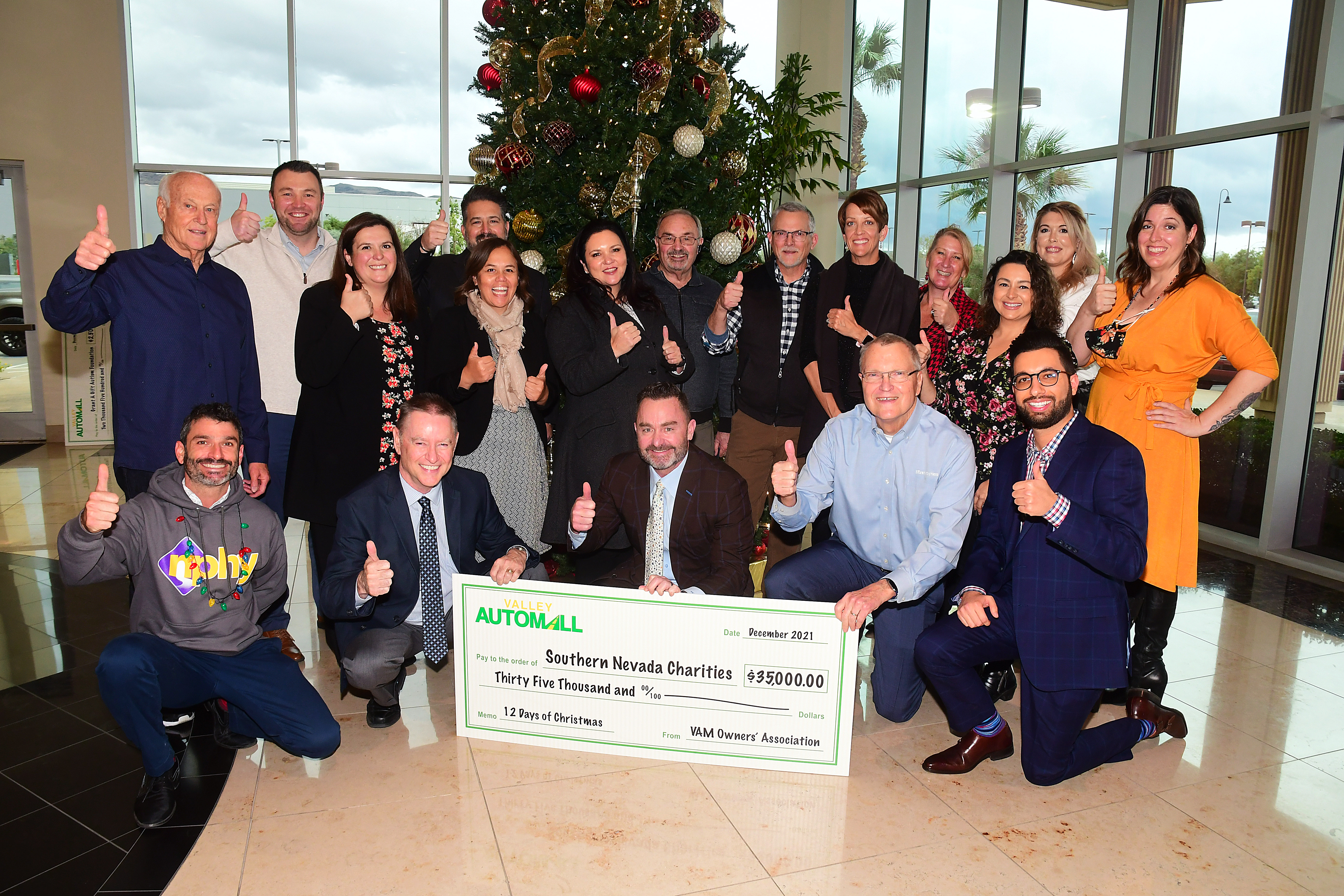 The Valley Automall Celebrates 14 days of Christmas
Every year the dealerships of the Valley Automall (VAM) host their 14 Days of Christmas event. During this time they donate to 14 Las Vegas charities. This year's charities include: the YMCA, Injured Police Officers Fund, American Red Cross in Southern Nevada, The Shade Tree, Share Village Las Vegas, Nevada Veterans Assistance League, Safe House, Hopelink of Southern Nevada, Family Promise of Las Vegas, Grant a Gift Autism Foundation, Nevada Partnership for Homeless Youth, Candlelighters Childhood Cancer Foundation, Emergency Aid of Boulder City and Youth Charities of Southern Nevada.
In keeping with its commitment to the community and desire to give back, The dealers of Valley Automall were pleased to present each of these 14 organizations with a Holiday contribution of $2,500 each. The Valley Automall first started this event in 2014. To date, the total amount donated is $255,000. It was initially the 12 days of Christmas, but due to the increasing interest and need, VAM executives decided to add two more days – and two more charities.
Members of the Valley Automall have expressed their gratitude and appreciation for the important work these organizations accomplish and they consider it a privilege
and honor give back to the community. Jordan Sommaggio, community director for the YMCA, said, "We are so appreciative of this generous donation from the
Valley Automall. It's really going to allow us to fund scholarships for at-risk youth and families and give them access to lots of critical care programs." Likewise, Don Taylor with Emergency Aid-Boulder City added that through this donation, they could continue to fund the organization. Taylor said, "We help those in Boulder City that need a boost. We offer a food pantry and financial aid. If you need help with your rent, a bus ticket, prescriptions, new tires, or any emergency people have, we are there for you. We also help any travelers coming through town who might find themselves in a hard situation. We focus on the people that are on the edge and help them get as stable as possible."
Rachel Flannagan, the American Red Cross in Southern Nevada, said," This gift provides a lot of opportunities for the American Red Cross." Mindy Lloyd of the Injured
Police Officers Fund agreed, saying, "We are so grateful for this donation. This will be able to help a lot of families that have been struggling in the law enforcement community… it's a great holiday gift."
As the Las Vegas community celebrates this holiday season, the Valley Automall wishes all a happy and safe holiday season and a happy new year. The
Valley Automall is located at 300 Auto Mall Dr in Henderson, it consists of 20 individual automotive dealerships representing 27 different brands. For more
information visit www.valleyautomall.com.
Photo
Caption: Presenting the check is Tyler Corder CFO of Findlay Automotive, Ryon
Walters General Manager of Lexus of Henderson and Greg Heinrich owner of
Henderson Chevrolet, along with representatives from various local charities.