Fiat 500 Pop Cruising The Strip in Style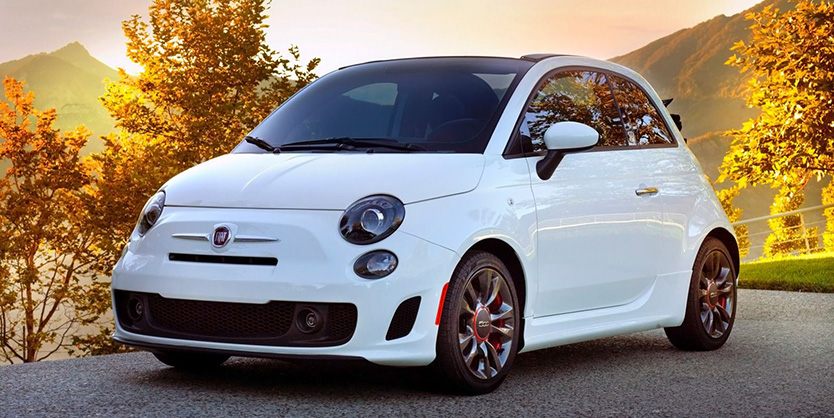 Driving Your Used Fiat 500 Pop Through Las Vegas
Drive through Las Vegas in Italian style with the foreign born Fiat 500 Pop and you can see amazing things in the process. The beauty and culture that is Las Vegas is second to none so don't miss any of it. While driving through the littlest big city in the world you can experience everything from behind the wheel. You are in control of your destiny so what are you waiting for. Findlay Automotive Group of Las Vegas has everything you need to make this dream a reality for you.
Check out the Bellagio Fountains and Watch the Volcano Erupt
While traveling in your stylish used Fiat 500 Pop you can view the mesmerizing Mirage Volcano which take place every half hour on the nose throughout the night. Fun sights like the volcano or the Bellagio fountains which spout off every half hour during the afternoon and then in the evening every 15 minutes. You could even drive the Fiat 500 Pop to the Red Rock Canyon National Conservation Area where you can enjoy the sights. It is best early in the morning or in the late evening to avoid the severe heat of the desert climate.
Cruise "The Strip" Fiat 500 Pop Style
Throughout the United States of America and the modern world Las Vegas is known in particular for its infamous strip. This street signifies why Las Vegas is truly unique in its own right and stands alone as an epicenter to the human experience. That is why the Fiat 500 Pop is perfect for you to enjoy all of this. With its classy and sleek design, you are sure to turn heads. Everybody know how important a first meeting is with someone. Make sure you make the right choice and come buy a used Fiat 500 Pop from Findlay Automotive Group.
View the Natural Beauty of Las Vegas
You can view the beauty of Lake Mead which is the largest man-made lake in the world. This fun escape is less than an hour drive from Downtown. If you are having an itch to just get away, then Mount Charleston may be just what you need then. Mount Charleston is 35 miles northwest of The Strip. If we are to talk about beauty, then we have to talk about Zion National Park which is only a 2 and ½ hour drive from Vegas. Yes, you may be thinking well that's a trip in its own. You will be seeing amazing carvings that bring you back to a much simpler time and the largest sandstone walls in the world.
Take The Road On in Your Fiat 500 Pop
The Grand Canyon is only a 4 to 5-hour drive from downtown Vegas and is worth the trip. One of the seven natural wonders of the world can be an experience that shapes you from years to come. Check out Findlay Automotive Group and our wide selection of new, used and certified pre-owned vehicles.