Findlay Automotive contributes employees and resources to help defeat cancer at annual LLS walk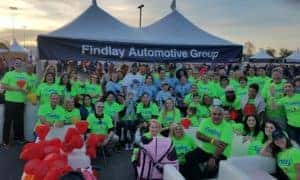 Over 150 members of Findlay Automotive Group played a big part in the Leukemia & Lymphoma Society's (LLS) annual Light the Night Walk on November 3 at the campus of College of Southern Nevada at 6375 West Charleston Blvd.
The annual gathering highlights the LLS' drive and provides much-needed help for those battling blood cancers by providing patient support services, advocating for life-saving treatments and pioneering the most promising cancer research anywhere.
Findlay Automotive Group CFO Tyler Corder said the 2018 Light the Night was a huge success.
""This year's Light the Night event was the most successful ever in Las Vegas," said Corder, the walk chair of the event. " We had about 5,000 people that showed up to support the fight against blood cancer. I'm really proud of our Findlay Automotive staff for getting behind this effort and leading the charge."
LLS Campaign specialist Katie Daley reported that Findlay's sponsorship of the event and combined dealership contributions totaled $71,825.
Corder continued. "We know the money we raised will make a difference. Over the past few decades there have been tremendous strides made in the effort to treat and cure blood cancer, and survival rates are improving each year. We are very grateful to the Las Vegas community for helping us support this tremendous cause."
Findlay Toyota Director of Marketing & Social Media Stephanie Bernas echoed Corder's praise.
"I am honored to be a part of the LLS board and the Light the Night committee," she said. "To see the community come together to help find a cure for blood cancer is very impressive and heartwarming. I am also proud to be a part of the Findlay Automotive organization that believes we need to be involved in our community."
The Light the Night Walk has been bringing light to the darkness of cancer for nearly two decades. Executive Director Elizabeth Hunterton has been involved with the organization for almost four years.
"This was a record-setting year,' said Hunterton. "This unprecedented success was only made possible because of Tyler Corder, his leadership and our outstanding community partners like Findlay Automotive Group."
Other phenomenal partners included: Walgreens, the Wynn Las Vegas, LeRêve, Comprehensive Cancer Centers of Nevada and Burlington, to name a few.
The night after the walk, the team at LeRêve and The Wynn Las Vegas hosted a benefit show where 100 percent of the proceeds benefitted the Leukemia and Lymphoma Society. The cast and crew had several connections to the mission of LLS and wanted to make a significant impact.
LLS which is headquartered at 6280 South Valley View Blvd., tells the story of the success battling cancer with a poster that says "We can see the end of cancer from here."
"The Southern Nevada community is so generous and advances our fight against cancer daily,' said Hunterton. "Our chapter's impact and support has grown every year and that's a testament to the city's philanthropic culture and compassionate participation."
Findlay Automotive dealerships that made substantial financial contributions include: Findlay Cadillac, Findlay Toyota, Findlay Chevrolet, Findlay Honda Henderson, Findlay KIA and Jaguar Land Rover of Las Vegas.
"We're so fortunate to have their ongoing support. Findlay Automotive Group and its stores have had such a substantial impact in the fight against cancer." Hunterton said.
Findlay Automotive Group was founded in 1961 by the late Pete Findlay. The group now includes 33 dealerships in California, Utah, Arizona, Idaho, Oregon and Nevada; with two other dealerships currently under construction.