Findlay Automotive Group helps children by donating to Goodie Two Shoes Foundation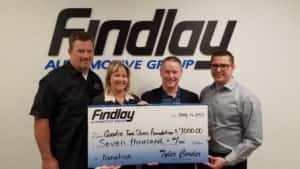 An effort to help youngsters in Southern Nevada recently received a big boost when Findlay Automotive Group donated a check for $7,000 to Goodie Two Shoes, which has fitted more than 80,000 Clark County School District students since 2003.
The idea to donate the money was initiated by Findlay Automotive Group chief accounting officer Chad Leavitt, who approached company chief financial officer Tyler Corder about the idea. Leavitt is on the board of Goodie Two Shoes.
One of the core beliefs of Goodie Two Shoes is that children whose parents have limited financial means are afforded fewer choices than most kids. So Goodie Two Shoes aims to give underprivileged children lots of options when it comes to picking out a new pair of shoes.
"I heard about the organization from my brother-in-law, who is also on the board," Leavitt explained. "He raved about Goodie Two Shoes. I went to one of their events and could not believe how many kids were helped. It's fun to see these kids able to find something for themselves. A lot of these kids don't get to choose anything in their lives. I have kids so it hit home for me and I want to help this foundation."
Leavitt said Goodie Two shoes entire operation is dedicated to providing shoes for local children. Everything they do is made possible by local donations from individuals and businesses. They don't receive any government funding.
"This makes their work ever more impressive to me. The fact that they are supported by the community 100 percent speaks volumes." Leavitt added.
"The check will outfit about 300 kids with socks and shoes," explained Nikki Berti, who co-founded the organization with her husband, former San Diego Charger football player, Tony Berti, taking their program to schools all over Southern Nevada. "It's shocking how many kids don't have socks and shoes that fit their feet."
Since Goodie Two Shoes was founded, it has received national honors for the couple's dedication to help others and has been featured repeatedly on local television stations. It's mission statement says "The Goodie Two Shoes Foundation provides disadvantaged children in crisis with new shoes and socks as well as other items deemed essential for good health and positive development."
Well-fitting shoes are key to a student's achievement in school, Nikki Berti explained.
"The idea to begin Goodie Two Shoes developed when Tony was playing for the Chargers," she explained. "Tony wanted to give back to society and especially wanted to help kids in need. Once he retired from the NFL, we proceeded with the idea and we're now averaging more than 10,000 pairs of socks and shoes a year.
"We firmly believe in the power of collaboration, and we believe that by GTSF partnering with other non-profit/social service agencies to provide new shoes and socks, we are assisting those organizations in making the most of their resources in other ways."
Along with working with the Clark County School District, GTSF has also partnered with more than a dozen Boys & Girls clubs, St. Judes' Children's Ranch, Family Promise, Olive Crest, Child Focus, Metropolitan Police Athletic League, Shade Tree Shelter, East/West Valley Family, among others.
Further information about Goodie Two Shoes can be found by visiting www.goodietwoshoes.org.
Findlay Automotive Group was founded in 1961 by the late Pete Findlay, whose son, Cliff, now oversees management of 31 automobile dealerships in Nevada, Utah, Arizona, Oregon and Idaho.
Further information can be found by visiting www.findlayauto.com.