Findlay Automotive makes donation to Foundation for Independent Tomorrow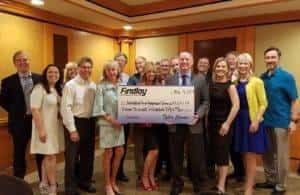 Findlay Automotive Group recently continued its support of Foundation for an Independent Tomorrow by granting the group a check for $11,650.
"We first met (FIT founder and CEO) Janet Blumen and learned about FIT in 2014," said Findlay Automotive Group CFO Tyler Corder. "Findlay Automotive has been supporting FIT ever since. We were very impressed with their mission of helping people with the tools and skills necessary to become self-sufficient.
"It's the ideal model of charity helping people to the point where they no longer need your help. Personally, I was so impressed that I joined their board of directors in an effort to help them further their mission."
Founded almost 20 years ago, FIT provides job training, coaching, jobs and support based on job seekers' individual needs and skills that employers seek.
"Findlay Automotive Group is a very solid and loyal supporter of FIT," Blumen said. "The company is now in its fourth year with FIT and we sincerely appreciate the support that helps us continue our mission to provide job training, coaching, and support to those people who are unemployed or underemployed.
"In fact, if there were a manual for those who want to experience the meaning of community support, the people of Findlay Automotive Group could serve as authors of the work."
Blue Ash, publisher of Luxury Las Vegas magazine, and a member of the FIT board of directors, concurred.
"On behalf of all of our future graduates at FIT, we would like to express our sincerest gratitude to our friends at Findlay Automotive Group for their generous donation that will help FIT continue to help others receive training and find gainful employment in the Las Vegas Valley."
Findlay Automotive Group was founded in 1961 by the late Pete Findlay, whose son, Cliff, now overseas 28 dealerships in Nevada, Utah, Arizona, Idaho and Oregon.
Further information can be found by visiting www.findlayauto.com