Findlay Cadillac executive L.J. Harness brings experience, community involvement to Valley Automall dealership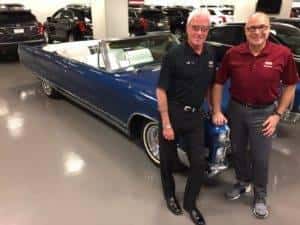 You might say that entertainer and all-around automobile pitchman L.J. Harness and the Cadillac brand are perfect for one another.
Harness just joined the team at Findlay Cadillac as the director of marketing. The energetic and highly-recognized native of Muncie, Ind., is spearheading a line of vehicles that represent General Motors' keen ability to reinvent itself in a very competitive segment of the market.
A professional drummer whose band toured and performed along with some very noteworthy performers such as Patty Labelle, Aerosmith, Tom Petty and the Heartbreakers, Kansas, Ted Nugent and Cheap Trick, to name a few.
"We had a band called Hoochie that performed in 30,000-60,000 seat stadiums in the 1970s and 1980s," said the 65-year-old Harness, who has been percussionist and drummer for 55 years. "We were out of Tampa Bay, Fla, where I started with Cadillac after retiring from show business."
Harness believes there is a definite similarity between the car business and show business.
"In either case, you're on stage all of the time," said Harness. "Whether it's cars or performing on stage, you seriously need to be at the top of your game. This is the closest thing to Rock 'N Roll I could find for a straight gig that produces a great living while having a great time."
The movement has spurred interest and sales especially at Findlay Cadillac, which has been named Cadillac's Dealer of the Year numerous times over the past several years. With an impressive three-story building that also includes more than 50 service bays, the dealership has the most inventory of any Cadillac dealership in the state of Nevada.
"Findlay Cadillac not only has a very impressive showroom along with excellent inventory, but it also has one of the nation's most impressive car shows called "Cadillac Through the Years" that draws incredible crowds," Harness said.
During his years with Cadillac, Harness has raised awareness for worthy causes while also generating millions of dollars on behalf of Cadillac. He said this year's Cadillac Through the Years that is set for April 30 at Town Square will be the biggest ever. The event presented with the Cadillac and LaSalle Club Las Vegas features an impressive list of classic Cadillacs along with music and food.
"People love nostalgia," Harness said of the 12th annual event that draws 115 years of Cadillacs. In the past vehicles dating back to 1908 have been on display.  "Cadillac Through the Years offers a colorful look at its history at a very impressive site."
Harness said his fiancé Tiffani Foote provides the support needed to keep up the pace of his busy schedule. Harness still performs with the Las Vegas entertainment family that includes many of the city's fellow entertainers who also combine to support Harness's favorite charities.
Dealership sales manager Jason Clouse, who has been with the dealership for 14 years, said "Having been with Cadillac as long as I have, it's great seeing someone with L.J.'s experience and level of customer service coming to the Findlay family. He is a welcome addition to the sales department and his involvement in the community will take us another level."
"Every automobile dealership needs a level of energy," said Findlay Cadillac general manager John Saksa, who has known Harness for several years. "L.J. brings that energy to this dealership through his deep knowledge of the car business and his notoriety in the community.
"We are very excited to have L.J. as part of our team. After representing Cadillac from the east to the west coast for 15 years, he has found a home."
Situated at 993 Auto Show Drive in Henderson, Findlay Cadillac is part of Findlay Automotive Group of dealerships founded in 1961 by the late Pete Findlay, whose son, Cliff, now overseas 28 dealerships in Nevada, Arizona, Utah, Oregon and Idaho.
Further information can be found by visiting www.findlaycadillac.com, www.findlayauto.com, or by calling Findlay Cadillac at 702-558-2600.