Findlay Chevrolet technician specializes in Corvettes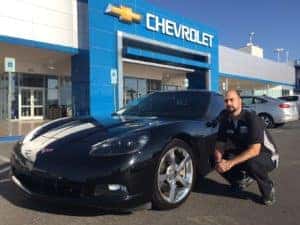 It's true that one man's junk is another's treasure, as evidenced by a 2009 Chevrolet Corvette that Findlay Chevrolet technician Paul Patane purchased in 2013.
A 34-year-old 2002 graduate of Rancho High School in North Las Vegas, Patane jumped at the opportunity to purchase the 'Vette, which had been in a summer flash flood.
The mechanically-oriented Patane replaced the engine, removed the carpeting for cleaning and gutted what was left to remove the dirt and debris.
When the car was traded in for a new Corvette, Patane jumped at the chance to purchase the vehicle that he refurbished.
"We're the only dealership in Las Vegas that is has Corvette specialist department," explained Patane, who literally knows the vehicle from front to back. When the previous owner decided to trade in the 2013 model, I jumped at the opportunity."
Patane put a new engine in the 2009 model because of the damage to the vehicle.
"It now has a 6.2 liter engine with upgraded exhaust," he explained. "I changed the suspension a little and added some cosmetic elements. Keeping a black car in the desert in difficult, but it looks very good now. "
Patane now has a very interesting career that sees him mixing with Corvette owners all over the valley. He is the go-to technician for anyone needing work on their Corvette.
In addition, Patane spearheads the dealership's involvement with Speed Vegas off I-15 headed to California while Exotics is situated at Las Vegas Motor Speedway in the northeast valley. In addition, Findlay Automotive Group sponsors the Vegas Corvette Association, the largest club of its kind in Southern Nevada.
"The Corvette is an attainable two-seat sports car that always gets a lot of looks," Patane explained. "After 65 years, it continues to grow and progress into the world of super cars. Everybody loves a Corvette.
"The Corvette is something that anyone of any age would be proud to have."
From bumper-to-bumper over all the years, Patane supplies the expertise for everything ranging from mechanical to electrical to trim items.
"Through the Corvette Club and through seeing customers at car shows, I have a personal relationship with my clients," he said. "I will often receive calls late at night or on weekends from clients who need help with their Corvette."
Patane cannot imagine working for any other car dealership.
'When I came to Findlay Automotive, I was a line tech," he said. "They have allowed me to grow in my career and attain my ASE Certification Master and GM Masters certification. We're a family here with a different vibe than any other dealer corporation. They're very community oriented in all of their dealerships."
Dealership general manager Doug Fleming praised Patane.
"It's great seeing young talent grow and bloom over the last eight years with us," said Fleming. "He has become GM Master Certified and ASE Master Certified during his time here and we are lucky to have someone with the talent that he has."
Findlay is situated at 6800 South Torrey Pines just south of the I-215.  Part of Findlay Automotive Group founded in 1961 by the late Pete Findlay, the dealership is headed by general manager Doug Fleming.
Further information can be found by calling 702-982-4000 or by visiting www.findlaychevrolet.com.