Findlay Toyota sales consultant loves her career; introduces 2019 Toyota Avalon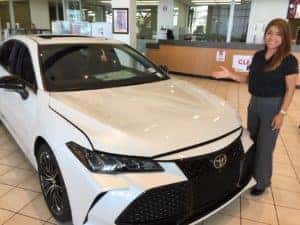 In the male-dominated world of automobile sales, Findlay Toyota sales consultant Monaliza Pence is outperforming most her male co-workers. It's an industry that rewards individuals who can retain and recite substantial product knowledge and those who are great with people.
Pence's capacity in both areas has resulted in impressive sales figures at the dealership, which is among the top-selling Toyota dealerships in the country.
In Pence's mind, a respected product, excellent service and pleasant atmosphere has led to tremendous success.  The store has fun atmosphere not usually found in other dealerships.
"As sales consultants, we have the assurance that we are selling quality vehicles to our clients," explained Pence, who has been named the dealership's Sales Consultant of the Month numerous times. "We care about our clients and there's a special feeling in knowing that people buying a Toyota are getting a quality product."
"I really get a kick out of selling cars," Pence said. "I know that I can trust a Toyota because I have three of them (Tacoma, Camry and a Rav4). I believe in the product. You must have heart and soul to be a success in the car business."
The car business requires long hours six days a week, but it also rewards those who build lasting relationships with customers. Pence receives large numbers of referrals and repeat customers each month.
"This is a combination of selling cars and helping people at the same time," said Pence, a native of the Philippines who has worked at Findlay Toyota for 11 years. "I have made a lot of friends in the business.  I build a relationship with each transaction. It's not about selling, but helping people."
Toyota's never-ending upgrades and new innovations are evidenced by the 2019 Avalon, which Pence says is another example of the company's efforts to continually improve its models.
"The 2019 Avalon is redesigned," she said "They went from a six-speed to an eight-speed transmission.  That gives you more power while increasing the fuel economy." The new Avalon also offers technical upgrades like a 9.0 inch touch screen display on the center stack and Apple CarPlay is now available for the first time on this model.
Dealership General Manager John Barr praised Pence.
"My life would not be the same if Mona didn't work for Findlay Toyota," said Barr.  "She's a big inspiration. Everyone in the car business could learn from Mona and her ability to nurture relationships.
"She is the best I have ever seen in the car business. She only works with referrals – and that's 30 car deals a month."
Findlay Toyota, which is situated at 7733 Eastgate Road in the Valley Automall, is part of Findlay Automotive Group, and headed by general manager John Barr. Findlay Automotive Group was founded more than 50 years ago by the late Pete Findlay. It's grown to include 32 dealerships in Nevada, Utah, Oregon, Utah and Arizona; with a 33rd dealership – Findlay Mazda —  now under construction just south of Audi Henderson in the Valley Automall Mall.
For more information about Findlay Toyota call 702-566-2000 or visit www.findlaytoyota.com.