Historic Findlay dealership Subaru of Las Vegas has moved to new complex in southwest valley
Subaru and Findlay Automotive have a long history together. Subaru first joined the then-tiny group back in 1971. It was paired with Findlay Oldsmobile at 3024 E. Freemont St., the Subaru dealership was the choice of Findlay Automotive Group founder Pete Findlay.
After several moves over 46 years, Subaru of Las Vegas has relocated from 5385 W. Sahara Ave. to a state-of-the-art new facility adjacent to Findlay Chevrolet at 6455 Roy Horn Way at Rainbow Boulevard and the 215 Beltway.
The official first day of business was Tuesday, Oct. 10.
Subaru has long been a rock-solid member of Findlay's umbrella of dealerships with 24 franchises in 31 separate dealerships.
"Oldsmobile was our first franchise," recalled Findlay Automotive Group CFO Tyler Corder. "Since General Motors eliminated Oldsmobile, Subaru is now our longest held franchise. We also represent Subaru in St. George, Utah and Prescott, Arizona"
The new Subaru of Las Vegas is much larger than its previous location.
"The new Subaru of Las Vegas facility is more than 65,000 square feet and sits on nearly eight acres," Corder said. "We've been very cramped in our previous Subaru facility on West Sahara Avenue. Both our employees and customers are very excited to move to this beautiful and spacious dealership. We've been told by Subaru executives that this is probably the nicest Subaru facility in the nation."
The Subaru of Las Vegas dealership is headed by long-time Findlay Automotive Group executive Burton Hughes.
"I have had the privilege to grow with Subaru of Las Vegas and with the Findlay Automotive Group in four different facilities over a twelve and a half year period," Hughes said. "This move into our flagship store on the 215 Beltway between Rainbow and Jones will be a leap forward in every conceivable aspect of the Subaru experience."
Hughes added that the buying experience has been fine-tuned over the years.
"Buying a new Subaru at Subaru of Las Vegas has been a streamlined experience since we adopted 'Stress Free Pricing' and non-commissioned sales four years ago," he said. "Now the after-the-sale service experience will compliment it as we go from 14 service bays at our West Sahara facility to over 40 at our 215 Beltway location.
"This will immediately reduce wait times for appointments and facilitate our Subaru Express Service guests much more efficiently."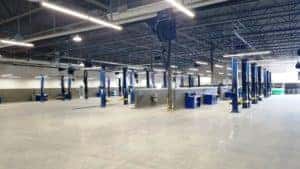 The grand opening of the dealership will be held sometime in November.
Subaru of Las Vegas is part of Findlay Automotive Group, which was founded in 1961 by the late Pete Findlay whose son, Cliff, now oversees automobile dealerships in Nevada, Arizona, Utah, Idaho and Oregon.
Further information regarding the dealership can be found by calling 702-495-2100 or by visiting www.SubaruofLasVegas.com.