Long-time sales consultant explains Black Label at Findlay Lincoln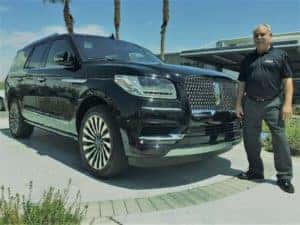 Veteran sales consultant Jeff Lamper started out with Findlay Automotive Group in 1996 in the Valley Automall.
Lamper could work just about anywhere, but chose Findlay Lincoln for numerous reasons citing the history and workmanship of the brand. What's more Lamper explains Findlay Lincoln is able to offer something no other Nevada dealership can. "We are Nevada's only Lincoln Black Label dealer; that sets us apart from other dealerships in many ways."
First and foremost Black Label vehicles are a step above the rest. They offer unique features you won't find on other trim levels. For example the Black Label Navigator has 30 different positions you can adjust your seat to. There's also a twelve inch touch display that runs both Apple CarPlay and Android Auto. There's also a heads up display which projects selected information onto your windshield. Wireless smart phone charging, A WiFi hotspot for up to ten devices, a twenty speaker Rebel sound system. The list goes on and on. Suffice it to say Black Label offers a first-class driving experience.
Lincoln Black Label vehicles come with four-year, 50,000-mile premium maintenance plan that covers all recommended service and wear items with complimentary pickup and delivery within an extended 50-mile radius. Complimentary car washes and vehicle detail.
Because you'll definitely get used to traveling in this first-class Black Label drivers also receive upgraded rental vehicles through the Avis President's Club and a complimentary vehicle for up to seven days when traveling to Los Angeles, San Francisco, Phoenix, Orlando or Atlanta international airports.
"Lincoln Black Label customers enjoy the best of vehicles and the best of travel-related benefits," Lamper said. This goes so far as to include bypassing long security lines while traveling. The Lincoln Black Label program simply takes the stress out of traveling.
Lamper highlighted some of his favorite things about working for the Findlay organization. "First off, Findlay Automotive Group is family-owned," Lamper said. "The company has been growing for several decades and our customers have seen the company survive and prosper even during the tough times."
He went on to say "There is no question that Findlay Automotive Group is dedicated to Southern Nevada. That's proven by the endless Findlay donations made to charities and worthy causes. The support of schools, and professional sports franchises such as the National Hockey League's Vegas Golden Knights is evidence that the company is a true believer in the community.
Findlay Lincoln general manager Nathan Findlay said he's pleased to have Lamper on his team.
"Because of his many years in the car business, Jeff has an immense following," Findlay said. "People know that he is not only a very knowledgeable sales consultant, but also a person who understands virtually every element of the car business. People trust Jeff and they appreciate his knowledge.
Further information regarding the Black Label program and Findlay Lincoln can be found by calling 702-558-8888 or by visiting www.findlaylincolnofhenderson.com.
Findlay Lincoln is situated at 310 N. Gibson Rd., in the Valley Automall. The dealership is part of Findlay Automotive Group founded in 1961 by the late Pete Findlay. The company's umbrella of dealerships now includes 32 locations in Nevada, Utah, Arizona, Oregon and Idaho – with the 33rd dealership — Findlay Mazda — now under construction in the Valley Automall just south of Audi Henderson.