USO Nevada
Published: 12/14/2021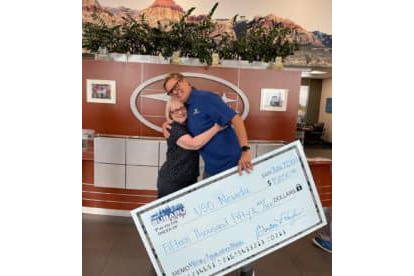 Having recently celebrated Independence Day, Findlay's Subaru of Las Vegas is honored to express its support to the local military men and women by donating to the USO (United Service Organizations) Nevada.  There are truly no words to express Findlay's gratitude to each individual who selflessly and courageously fights for the cause of freedom.  Many team members at Subaru of Las Vegas have family members and friends who serve or have served in our nations' military.
The USO Nevada is an organization that puts so much heart into not only military members, but also their families.  The USO Nevada serves dinner to the families of currently deployed service members; assists with welcoming active duty service members home from deployment; coordinates care packages to send overseas to let those deployed know that they are loved and thought about often; and provides support towards the transition of a service member from active duty to a new career outside of the armed forces. The USO Nevada purpose is to assist the community supporting our troops.
Likewise, at Subaru of Las Vegas supporting the community is a major focus. General Manager Burton Hughes said it best, "making a difference is at the heart of what we do here, and somewhere amidst all of that we hope to sell a few cars."  In citing to the Subaru Love Promise, Jennifer Vitale of Findlay Subaru said that one of the foundations of this promise is "that all work together to inspire positive change in our communities through setting an example for others to hopefully follow." Vitale continued, stating that Subaru of Las Vegas is "dedicated to supporting organizations that help neighbors and the community members in need. USO Nevada does exactly that."
Prior to the July 4th celebration, May was Military Appreciation Month and Subaru of Las Vegas wanted to show how much our local military members mean to not only Findlay, but its customers as well.  Thus throughout the entire month, Subaru of Las Vegas donated $50 for every vehicle sold and $3 for every oil change completed to the USO Nevada. Thanks to Subaru's amazing customers, $15,050 was donated to the USO Nevada. The dealership is excited to support everything that they do for those who don't get recognized enough.
To learn more about USO Nevada visit their website https://nevada.uso.org/
Subaru of Las Vegas is the only Subaru dealership in the valley. They are conveniently located in the southwest near 215 and Rainbow. Visit them in person or online at www.subaruoflasvegas.com.
Findlay Automotive Group began with one location more than 60 years ago. The group now includes 33 dealerships in Nevada, Utah, Oregon, Idaho, California, and Arizona. Learn more at www.FindlayAuto.com